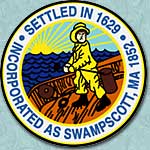 The Town of Swampscott, Massachusetts
Property Assessment Data
The Swampscott Board of Assessors has completed the triennial revaluation of all real and personal property . The proposed assessments are reflective of the market value for January 1, 2017.
The Swampscott Assessors' Office is located at 22 Monument Ave., Swampscott, MA 01907. The Assessors' telephone number is 781-596-8858. The office hours are 8:00 AM to 4:30 PM, Monday through Thursday, and 8:00 AM to 12:00 PM on Friday.
You may search the information by owner's name, property location, or parcel id.